I have to say…what I'm loving most this week is the continued gorgeous MN weather!  I'm almost afraid to look at the weekend forecast….especially since I have two outdoor events on Sunday!
I had a bit more of a productive week than last and I'm *this* close to officially hanging out the sign and opening my doors as a Holistic Wellness Coach.  I'm so excited…..this has been a long time in coming and I'm ready!    Next week /grin.
loves, lusts, and inspirations
Kath Eats Real Food was one of the very first blogs I stumbled across a few years ago when I set out to clean-up my eating.  She takes a very sensible approach to nutrition and exercise and I've enjoyed the recipes I've tried.  Her Coconut Almond Granola recipe has actually become a staple in my house; I enjoy it most every morning with a bowl of organic full-fat yogurt and organic berries of some sort (my favorites are strawberries and raspberries but I've been known to throw caution in the wind once in a while and do blueberries).  I change up the recipe a bit by using coconut oil in place of canola oil and I add in whatever I'm feeling for which this week happens to be unsweetened coconut flakes, raw sunflower seeds, raw pepitas, orange-flavored craisins, and dried cherries.  I mean – just look at all that nutty crunchy goodness and there's that darn red again!  This is my go-to granola recipe because it's simple, versatile, and it just always works.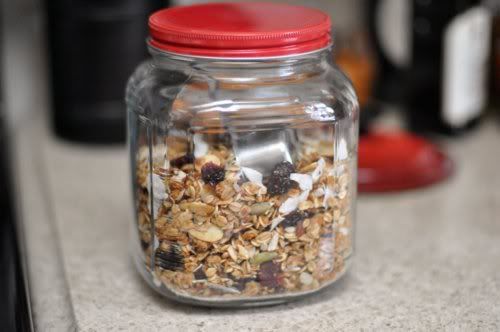 I'm jonesing to make Girl Cooks World Watermelon and Tequila Mojito this weekend and I know just the watermelon I'm going to use (one that's been on the counter far too long and simply must be used in a cocktail….sigh….).  And I've been drooling over her recipes all week…I mean, seriously?!?  So much goodness in one blog.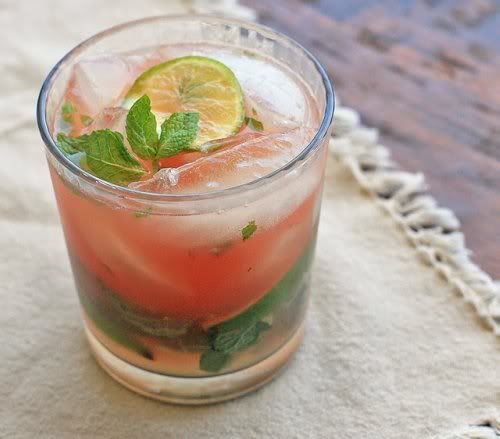 Photo credit:  Girl Cooks World
You may have noticed a few stylistic changes around my site…I've been teaching myself some HTML and CSS and I could not have done it without the help of W3 Schools.  Seriously – this site has been instrumental in my ability to make any changes whatsoever to my website.  I highly recommend checking them out – especially if you're stuck in coding hell like I've been the last couple of weeks!
I love Mark Bittman's messages calling for clean (and tasty) eating and I especially love his recent article entitled "Bad Food?  Tax It and Subsidize Vegetables".  Do I think this is the end-all-be-all to the problems we face as a nation and world due to poor eating habits?  Absolutely not but I do see it as a step in the right direction.  Do I think taxing bad food will make people eat less of it?  Not necessarily but I do believe the revenues raised can be used towards education (foundational) and helping with health care costs for those that choose to have poor eating habits (we all pay for each other…you get that…right?).  I'm not a perfect person by any means and I have my bad habits like Diet Mountain Dew but I'd gladly pay more knowing I'm personally making a choice to put something bad for me in my body if it means just one more person gets access to better education and changes their habits and lifestyle.  I'm quite passionate on the subject as are many.  Take a look at some of the comments over at Elena's Pantry and weigh in on the discussion.  It's a very interesting one that inspires passion on both sides of the fence.
I hope you all have an amazing weekend!
Peace out – Jen